San Francisco Is Bracing for Life After This Tech Bubble
June 9, 2016 — 2:00 AM PDT
City officials drafting a guide for economic downturn

San Francisco is one of first U.S. cities to develop a plan
San Francisco is preparing for a different kind of Big One.
Municipal officials are drafting an "economic resiliency plan" — one of the first of its kind in the U.S — to ensure the city of 865,000 can better withstand a financial earthquake akin to the one that roiled global markets in 2008 and left some U.S. cities on the verge of economic ruin.
San Francisco leaders are still haunted by memories of the dot-com bubble of the early 2000s and the Great Recession, which caused the largest collapse in state revenues on record and forced cities to reduce police spending, close libraries and wade deeper into public-pension debt. Some cities and states are trying to ensure they aren't caught off guard again by boosting reserves and girding their residents against the next collapse. Utah is stress-testing its budget to find weakness in advance.
"There are things that you need to do to prepare your house so it doesn't fall down," said Todd Rufo, director of the San Francisco Office of Economic and Workforce Development. "We haven't forgotten what 2008 was like and that's why we want to be as prepared as we can be."
A tech boom spurred by companies like Twitter Inc., Uber Technologies Inc. and Airbnb Inc. has transformed San Francisco into one of the hottest economies in the U.S. The unemployment rate was 3.1 percent in April, the lowest since 2000, and home values are at a median of $1.1 million, the largest among the 50 biggest U.S. cities. Mayor Edwin Lee on May 31 released a record $9.6 billion budget proposal.
But officials haven't forgotten when a projected $460 million shortfall in the fiscal 2010 budget forced 1,600 job cuts, the closing of city-owned recreation centers, reductions in street cleaning and a program that provided subsidized meals for seniors, and the need to pull $79 million from a rainy-day fund. Statewide, the cities of Stockton and San Bernardino filed for municipal bankruptcy.
"The impacts of the last economic downturn resulted in near double-digit unemployment with thousands of residents out of work and our small businesses left struggling," Lee said in a statement. "We must not take for granted the vibrancy of our economy. Now is the time to plan ahead."
San Francisco's report, to be released in about eight months, will offer step-by-step actions aimed at protecting jobs and industries and spell out how to best spend tax dollars and federal stimulus funds on public works projects to prop up the local economy.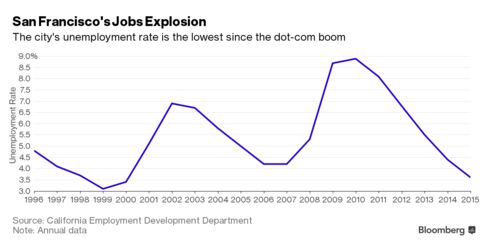 Not Enough
Some local governments aren't doing enough to prepare, given that the current economic expansion that's heading into a seventh year is projected to end in the next two to three years, said Dan White, a senior economist at Moody's Analytics in West Chester, Pennsylvania.
"I haven't seen many cities or counties focusing on this, especially from a stress-testing perspective, which scares me a little bit," White said. "Cities, states and all manner of local governments should absolutely be preparing themselves for a downturn."
While tax revenue collected by state governments is above pre-recession peaks, many municipalities have to grapple in the long term with depleted rainy-day funds and mountains of unfunded pension and retiree healthcare liabilities, White said in a May report.
"There's an acknowledgment that before too long there will be another recession," said Christiana McFarland, a research director at the National League of Cities in Washington. "We're seeing that cities are becoming a little bit more fiscally conservative in some of their practices, particularly when it comes to preparing budgets."
In New York, Mayor Bill de Blasio's proposed budget for the fiscal year beginning July 1 includes at least $7 billion in reserves to protect against an economic downturn. About $3.7 billion is held in a trust fund to cover retiree healthcare expenses, yet may be used for any purpose in an emergency.
"New Yorkers know how easily things can turn," de Blasio said during his April 26 budget presentation. "It's troubling to think what might happen if economic difficulties around the country and the world came to rest here."
Stress Test
States are also readying for bad times by squirreling away more cash in reserves. They lost $89.6 billion in inflation-adjusted tax revenue from the recessionary peak in fiscal 2008 to the trough in 2010, said Don Boyd, a fiscal studies director at the Nelson A. Rockefeller Institute of Government in Albany, New York.
While California's budget has recovered from the recession and has enjoyed several years of surpluses, Governor Jerry Brown repeatedly warns the good times won't last and has insisted the state stash away billions to gird against spending cuts once the economy falters.
"In any scenario, there are no halcyon days ahead," Brown said in May when he updated his budget proposal for the fiscal year that begins July 1.
In Utah, officials last year began taking the extra step of applying scenarios from the Federal Reserve's stress tests of banks to the state's budget, including how certain economic conditions — like a soaring unemployment rate or a declining gross domestic product — might affect spending on Medicaid, higher education and social-service programs.
"It's sound budgeting," said Kristen Cox, executive director of the Utah Governor's Office of Management and Budget. "Just like families have to live within their means, so does the government."